PERSELISIHAN HUKUM MODERN DAN HUKUM ADAT DALAM KASUS PENCURIAN SISA PANEN RANDU
Keywords:
customary law, modern law, legal positivism, social justice
Abstract
ABSTRACT
Modern law and customary law should be able to coexist in a pluralistic constellation of law in Indonesia. But in some cases, modern law deals vis a vis with customary law, and often customary law has to be in yield position. The contradiction has become fact in Batang, Central Java. The case of cotton harvest theft trialed in Batang District Court. Based on the fact, in this paper resolves that the enactment of modern law, often emphasized through legal positivism, tends to hurt the sense of social justice. Positive law or legal positivism not enough to describe fairnes dan justice. Then, jugde, when decides the case, doesn't use legal positivism only. 
Keywords: customary law, modern law, legal positivism, social justice
 
ABSTRAK
Hukum modern dan hukum adat dapat eksis bersama dalam konstelasi hukum Indonesia yang syarat dengan plurarisme. Namun, dalam beberapa kasus harus berhadapan dengan hukum adat seperti putusan atas pencurian batang randu di Batang. Kedua hukum tersebut memiliki tujuan yang sama yaitu keadilan yang jauh melampaui hukum sehingga keadilan tidak bisa sepenuhnya dipastikan dalam rumusan hukum. Hukum tanpa keadilan tidak layak lagi disebut hukum, tetapi keadilan tanpa hukum tetaplah keadilan, meskipun keadilan yang "defisit". Jadi, keadilan itu tidak terbatas, dalam arti ia tidak bisa dibatasi dalam definisi tertentu, atau direduksi pada hukum tertentu, atau diderivasi pada sesuatu yang dianggap pasti. Hukum positif, betapa pun lengkapnya, tetap saja terbatas, terutama akan terlihat jelas dalam "hard cases". Mengembalikan teks hukum pada satu-satunya makna, tidak hanya tidak mungkin, melainkan juga semakin menjauhkannya dari makna keadilan.
Kata kunci: hukum adat, hukum modern, hukum positif, keadilan sosial
References
Huijbers, Theo. 1990. Filsafat Hukum dalam Lintasan Sejarah. Yogyakarta: Kanisius.
Kaelan. 2009. Filsafat Bahasa Semiotika dan Hermeneutika. Yogyakarta: Penerbit Paradigma.
Kelsen, Hans. 1976. The Pure Theory of Law. Diterjemahkan oleh Max Knight. University of California Press.
Locke, John. 1963. Two Treatises of Government. P. Lasslet, ed. Cambridge: Cambridge University Press.
Rahardjo, Satjipto. 2006. Hukum dalam Jagat Ketertiban. Jakarta: UKI Press.
Sidharta, B. Arief. 2008. Struktur Ilmu Hukum Indonesia. Bandung: Fakultas Hukum Universitas Katolik Parahyangan.
Thompson, E.P. 1977. Whighs and Hunters The Origin of The Black Act. Penguin Books.
Zips, Werner. 2002. "The Double-bladed Sword" A Comparative Analysis of the Bond between Rule of Law ant Concept of Justice in Akan Legal Thought". Dalam Rajendra (ed.), Legal Pluralism and Unofficial Law in Social, Economic, and Political Development. Papers of the XIIIth International Congress of the Commisision on Folk Law and Legal Pluralism. Chiang Mai-Thailand.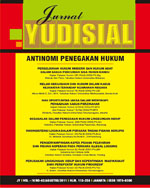 Downloads
How to Cite
Putro, W. D. (2017). PERSELISIHAN HUKUM MODERN DAN HUKUM ADAT DALAM KASUS PENCURIAN SISA PANEN RANDU. Jurnal Yudisial, 4(2), 113–129. https://doi.org/10.29123/jy.v4i2.190
License
FORMULIR COPYRIGHT TRANSFER
Naskah ini asli dan penulis mengalihkan Hak Cipta naskah di atas kepada Jurnal Yudisial, jika dan ketika naskah ini diterima untuk dipublikasikan.
Setiap orang yang terdaftar sebagai penulis pada naskah ini telah berkontribusi terhadap substansi dan intelektual dan harus bertanggung jawab kepada publik. Jika di masa mendatang terdapat pemberitahuan pelanggaran Hak Cipta merupakan tanggung jawab Penulis, bukan tanggung jawab Jurnal Yudisial.
Naskah ini berisi karya yang belum pernah diterbitkan sebelumnya dan tidak sedang dipertimbangkan untuk publikasi di jurnal lain.