KEPEMILIKAN HAK CIPTA DALAM PERJANJIAN LISENSI
Keywords:
copyright, license, copyright registration
Abstract
ABSTRAK
Pemegang hak cipta berhak memberikan lisensi kepada pihak lain untuk mengumumkan atau memperbanyak ciptaannya dengan imbalan berupa royalti. Pemberian lisensi tersebut dibuat dalam suatu perjanjian lisensi. Isi perjanjian lisensi tidak mengalihkan hak cipta milik pemberi lisensi kepada penerima lisensi. Salah satu contoh dari perjanjian lisensi di Indonesia adalah pemberian lisensi hak cipta dan merek minuman penyegar Cap Kaki Tiga dari perusahaan Singapura Wen Ken Drug Company kepada perusahaan nasional PT Sinde Budi Sentosa. Perjanjian lisensi yang dibuat tahun 1978 tersebut kemudian diakhiri secara sepihak oleh Wen Ken pada tahun 2008 dan diikuti dengan beberapa sengketa HKI antara Wen Ken dengan Sinde, salah satunya adalah sengketa hak cipta atas Logo Cap Kaki Tiga dan Lukisan Badak. Mahkamah Agung dengan Putusan No. 104 PK/PDT.SUS/2011 memberikan hak cipta atas Logo Cap Kaki Tiga dan Lukisan Badak pada Sinde selaku penerima lisensi, dan menyatakan bahwa logo tersebut merupakan ciptaan bersama antara Wen Ken, Sinde, dan BY. MA tidak mengakui Wen Ken selaku pemberi lisensi sebagai satu-satunya pemegang hak cipta atas logo tersebut. Salah satu yang menjadi dasar pertimbangan MA dalam putusannya adalah karena Wen Ken tidak memiliki bukti pendaftaran hak cipta atas logo tersebut, baik di negara asalnya Singapura maupun di negara-negara lain.

Kata kunci: hak cipta, lisensi, pendaftaran ciptaan.


ABSTRACT
A copyright holder is entitled to license others to publish or reproduce his creations in return for a royalty. Licensing shall be made in a form of license agreement. A license agreement does not transfer the copyright that belongs to the licensor to the licensee. One example of a license agreement in Indonesia is the licensing of copyright and brand name of Minuman Penyegar Cap Kaki Tiga from Wen Ken Drug Company from Singapore, to a national company, PT Sinde Budi Sentosa in 1978. The licensing agreement was then terminated unilaterally by Wen Ken in 2008, and was followed by a series of Intellectual Property Rights disputes between Wen Ken and Sinde, one of which is the dispute on copyright of the logo. In its Decision Number 104 PK/PDT.SUS/2011, the Supreme Court of the Republic of Indonesia granted the copyright of the logo to Sinde as the licensee and stated that the logo was a joint creation between Wen Ken, Sinde, and BY. The Supreme Court did not acknowledge Wen Ken as the licensor as the sole holder of the copyright to the logo. One of the necessary ruling considerations of the Supreme Court is for the reason that Wen Ken did not posses any evidences of copyright registration for the logo in its home country, Singapore, as well as in other countries.

Keywords: copyright, license, copyright registration.
References
Aboud, Leslie. Winter 2013. "Who Owns the Ruby Slippers?: An Analysis of the Impact of Warner Bros. v. X One X on Visual Depictions in Copyright Law.†Journal of Corporation Law, Vol. 38.
Chan, Grace K. Winter 2013. "Downstream Alteration of Copyrighted Works in A World of Licensed, Digital Distribution.†Columbia Journal of Law & the Arts, Vol. 36.
Classen, H. Ward. Maret/April 2013. "Assignment Clauses in Intellectual Property Agreements: There Is More Than Meets The Eye.†Maryland Bar Journal, Vol. 46.
Garner, Bryan A. (ed). 2000. Black's Law Dictionary, 7th ed.. St. Paul, Minnesota: West Group.
Jankowski II, Donald Frank. Winter 2013. "The End of Ownership?†Marquette Intellectual Property Law Review, Vol. 17.
Kariodimedjo, Dina Widyaputri. Juni 2010. "Perlindungan Hak Cipta, Hak Terkait, dan Desain Industri.†Jurnal Mimbar Hukum, Vol. 22, No. 2.
Lindsey, Tim, et.al. 2006. Hak Kekayaan Intelektual: Suatu Pengantar. Bandung: Asian Law Group Pty. Ltd. & PT Alumni.
Merges, Robert P., et.al. 2003. Intelectual Property in the New Technological Age. 3rd Ed. New York: Aspen Publishers.
Newman, Christopher M. Maret 2013. "A License Is Not A "Contract Not To Sueâ€: Disentangling Property and Contract in the Law of Copyright Licenses.†Iowa Law Review, Vol. 98.
Ponte, Lucille M. 2006. "The Emperor Has No Clothes: How Digital Sampling Infringement Cases Are Exposing Weaknesses in Traditional Copyright Law and the Need For Statutory Reform.†American Business Law Journal, Vol 43.
Rahayu, Devi. Februari 2011. "Perlindungan Hukum Terhadap Hak Cipta Motif Batik Tanjungbumi Madura.†Jurnal Mimbar Hukum, Vol. 23, No. 1.
Saidin, H. OK. 2006. Aspek Hukum Hak Kekayaan Intelektual. Jakarta: PT. RajaGrafindo Persada.
Sangsuvan, Kitsuron. Winter 2013. "Separation of Powers in Intellectual Property Rights: Balancing Global Intellectual Property Rights or Monopoly Power in the Twenty-First Century by Competition Law.†New York International Law Review, Vol. 26.
Sinaga, Valerie Selvie. Februari 2013. "Intelectual Property Law in Indonesia After 2001.†Jurnal Mimbar Hukum, Vol. 25, No. 1.
Sujatmiko, Agung. Februari 2010. "Peran dan Arti Penting Perjanjian Lisensi dalam Melindungi Merek Terkenal.†Jurnal Mimbar Hukum, Vol. 22, No. 1.
_______________. Februari 2012. "Permasalahan Yuridis Yang Timbul Terkait Lisensi Merek Terkenal.†Jurnal Mimbar Hukum, Vol. 24, No. 1.
_______________. Juni 2010. "Perjanjian Lisensi Merek Terkenal.†Jurnal Mimbar Hukum, Vol. 22, No. 2.
Wikipedia. 2013. Copyright Registration. Akses tanggal 15 Maret 2013. (http://en.m.wikipedia.org/wiki/Copyright_registration).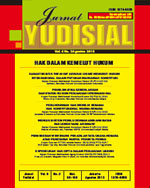 Downloads
How to Cite
Lestari, H. D. (2013). KEPEMILIKAN HAK CIPTA DALAM PERJANJIAN LISENSI. Jurnal Yudisial, 6(2), 173–188. https://doi.org/10.29123/jy.v6i2.112
License
FORMULIR COPYRIGHT TRANSFER
Naskah ini asli dan penulis mengalihkan Hak Cipta naskah di atas kepada Jurnal Yudisial, jika dan ketika naskah ini diterima untuk dipublikasikan.
Setiap orang yang terdaftar sebagai penulis pada naskah ini telah berkontribusi terhadap substansi dan intelektual dan harus bertanggung jawab kepada publik. Jika di masa mendatang terdapat pemberitahuan pelanggaran Hak Cipta merupakan tanggung jawab Penulis, bukan tanggung jawab Jurnal Yudisial.
Naskah ini berisi karya yang belum pernah diterbitkan sebelumnya dan tidak sedang dipertimbangkan untuk publikasi di jurnal lain.