KARAKTERISTIK THE MOST SERIOUS CRIME MENURUT HUKUM INTERNASIONAL DALAM PUTUSAN MAHKAMAH KONSTITUSI
Keywords:
the most serious crime, violent theft, the death penalty
Abstract
ABSTRAK
The most serious crime adalah satu-satunya kejahatan yang bisa digunakan oleh negara yang masih ingin mempertahankan hukuman mati. Karakteristik the most serious crime dalam hukum internasional di antaranya: tindak pidana yang dilakukan merupakan perbuatan yang keji dan kejam, menggoncangkan hati nurani kemanusiaan; Adanya unsur kesengajaan, terorganisir, sistematis,
dan meluas untuk menimbulkan kematian atau akibat-akibat yang sangat serius lainnya; Akibat yang ditimbulkan dari tindak pidana itu sangat serius terhadap negara atau masyarakat luas. Putusan MK Nomor 15/PUU-X/2012 yang memasukkan tindak pidana pencurian dengan kekerasan yang menimbulkan luka berat atau matinya orang sebagai the most serious crime tidak sesuai dengan hukum internasional. Hasil penelitian ini membuktikan tidak ada hukum internasional maupun hukum nasional yang memasukkan tindak pidana pencurian dengan kekerasan sebagai the most serious crime.

Kata kunci: the most serious crime, pencurian dengan kekerasan, hukuman mati.


ABSTRACT
'The most serious crime' is the term for a category of crime that is used by the country that still retains the death penalty. The definition of the most serious crime according to the International Laws is a heinous and cruel crime, which shook the conscience of humanity. It is intentional, organized, systematic, and widespread causing death or other serious impacts on the state or the public at large. The Constitutional Court Decision Number 15/PUU-X/2012 which categorized a violent theft which has caused serious injury or death as 'the most serious crime', is not in line with International Laws. This paper analyzes and resolves that there is nothing in the International Laws or National Laws classifying any violent theft into the category of 'the most serious crime'.

Keywords: the most serious crime, violent theft, the death penalty.
References
Joan & Alice Miller. 1993. International Standard on the Death Penalty: Shifting Discours. 19 Brook. J. Int'l L. 273.
Hamzah, Ali dan A. Sumangelipu. 2009. Pidana Mati di Indonesia, di Masa Lalu, Kini dan di Masa Depan. Cet. Keempat. Jakarta: Ghalia Indonesia.
Jaksa Agung: Hukuman mati bukan isu HAM. 20 Februari 2008. Akses 14 November 2012. http://www.hukumonline.com/berita/baca/hol15115/jaksa-agung-hukuman-matibukan-isu-ham.
Kompas. 19 Juli 2012.
Lynch, Colman. 2009. Indonesia use of Capital Punishment for Drug-Trafficking Crimes Legal Obligations, Extra Legal Factors, and The Bali Nine Case, dalam 40 Colum. Hum. Rts. L. Rev. 523.
Muladi. 2005. Mekanisme Domestik unstuck Mengadili Pelanggaran HAM berat Melalui Sistem pengadilan Atas Dasar UU 26/2000. Seri Bacaan Kursus HAM untuk pengacara. ELSAM.
Schabas, William A. 1998. International Law and Abolition of Death Penalty. 55 Wash. & Lee L. Rev. 797.
Schmidt, Markus G. 1997. Universality of Human Rights and The Death Penalty-The Approach of The Human Rights Committee, 3 ILSA J. Int'l & Comp. L. 477.
Truskett, John Paul. 2004. The Death penalty, International Law and Human Rights, 11 Tulsa J. Comp. & Int'l L. 557.
Wongkar, Vonny A. 2006. "Tanggung Jawab Komando Terhadap Pelanggaran HAM yang Berat dan Kejahatan Perang dalam Pembaharuan Hukum Pidana di Indonesia.†Thesis Magister Ilmu Hukum PPS Universitas Diponegoro.
Zexian, Chen. 2005. Restrictions on the Imposition of the Death Penalty; A paper for International Symposium on Death Penalty (Dec. 9-10, 2005). China.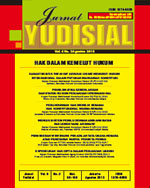 Downloads
How to Cite
sefriani, S. (2013). KARAKTERISTIK THE MOST SERIOUS CRIME MENURUT HUKUM INTERNASIONAL DALAM PUTUSAN MAHKAMAH KONSTITUSI. Jurnal Yudisial, 6(2), 95–106. https://doi.org/10.29123/jy.v6i2.107
License
FORMULIR COPYRIGHT TRANSFER
Naskah ini asli dan penulis mengalihkan Hak Cipta naskah di atas kepada Jurnal Yudisial, jika dan ketika naskah ini diterima untuk dipublikasikan.
Setiap orang yang terdaftar sebagai penulis pada naskah ini telah berkontribusi terhadap substansi dan intelektual dan harus bertanggung jawab kepada publik. Jika di masa mendatang terdapat pemberitahuan pelanggaran Hak Cipta merupakan tanggung jawab Penulis, bukan tanggung jawab Jurnal Yudisial.
Naskah ini berisi karya yang belum pernah diterbitkan sebelumnya dan tidak sedang dipertimbangkan untuk publikasi di jurnal lain.